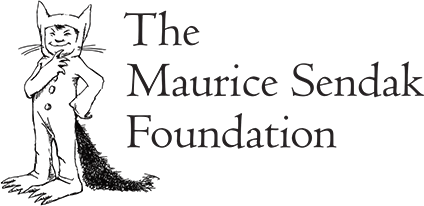 Learn more about The Maurice Sendak Foundation here.
The Maurice Sendak Foundation, a not-for-profit charitable organization, is devoted to promoting greater public interest in and understanding of the literary, visual, and performing arts.
The Foundation supports the artistic legacy of Maurice Sendak and nurtures emerging as well as established artists in the fields of children's literature and theater design.
The Foundation also promotes the rights and well-being of children and animals.
The Maurice Sendak Foundation each year supports other not-for-profit organizations whose activities fall within its stated mission. Past recipients include The Good Dog Foundation, P.S. 188 The Maurice Sendak School, Yaddo, Portland Opera and many others.
The Sendak Fellowship
The Sendak Fellowship, a core Program of The Maurice Sendak Foundation, is a residency that encourages, teaches and supports artists who tell stories with illustration.
Once a year, The Sendak Fellowship offers a four-week residency for two to four artists to live and work away from the distractions of their daily routines. It gives artists the opportunity to deeply engage in their work in the relative isolation of a rural setting.
The goal of The Sendak Fellowship, in Maurice's words, is for the Fellows to " . . . create work that is not vapid or stupid, but original; work that excites and incites. Illustration is like dance; it should move like—and to—music."
Sendak Fellowship
2023
Sophie Gilmore, Hannah Salyer, Dena Seiferling, Bruno Zocca
2017
The Fan Brothers – Terry and Eric Fan, Rashin Kheiriyeh, Eliza Wheeler
2016
Elisha Cooper, Jenni Desmond, Yuyi Morales
2015
Richard Egielski, Marc McChesney, Doug Salati, Stephen Savage
2014
2013
Jessica Ahlberg, Ian Andrew, Marc Rosenthal, Sara Varon
2012
Gerardo Blumenkrantz, Tor Freeman, Alice Lickens
2011
Ali Bahrampour, Frann Preston-Gannon, Sergio Ruzzier, Denise Saldutti Egielski
2010
Antoinette Portis, Aaron Renier, Paul Schmid, Rowboat Watkins